zł0.00
TanExpert The Desert - Spray Mist 1L
 
U Ciebie:
na piątek (02 grudzień 2022)

Do Paczkomatów dostarczamy
też w weekend
Zamówienie dostarczamy do Paczkomatów również w weekend.
Metoda dostawy "Paczka w weekend" jest dostępna od czwartku godz. 20:00 do piątku 15:59




Wysyłka 1 zł od 159 zł
kurierem InPost i GLS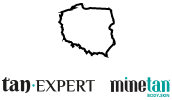 Polska dystrybucja
Oficjalny polski sklep internetowy
Witaj w świecie kosmetyków polecanych przez profesjonalistów. TanExpert The Desert to udoskonalona wersja płynu do opalania natryskowego, powstały na bazie naszych najlepszych doświadczeń oraz licznych konsultacji z ekspertami z branży Beauty. Kosmetyk jest bezzapachowy i zapewnia naturalną, złocistą opaleniznę. Ma swoją genezę w odcieniu naszego bestsellerowego balsamu Desert Rose. Idealny dla osób o jaśniejszej karnacji oraz tych, którzy dopiero zaczynają swoją przygodę z opalaniem. Nasza profesjonalna formuła zapewnia doskonałe rezultaty za każdym razem, a opalenizna jest długotrwała i bez efektu smug.
Tego możesz się spodziewać po tym produkcie

Naturalnej opalenizny o złocistym odcieniu, skóry muśniętej słońcem;

Łatwej i przyjemnej aplikacji bez smug oraz efektu bez pomarańczowych tonów

Szybkiego wchłaniania się kosmetyku w skórę, opalenizny widocznej już po godzinie

Kosmetyku bez nieprzyjemnego zapachu sztucznej opalenizny

Minimalnie odczuwalnego DHA po zaaplikowaniu płynu do opalania

Składu przyjaznego dla wegan, bez parabenów, z 100% naturalnym DHA
Szczegóły
Subtelny płyn do opalania natryskowego, który działa już po 1 godzinie.
The Desert to płyn opalający, który pozwoli Ci stworzyć opaleniznę o naturalnym, złocistym odcieniu. Jego geneza tkwi w odcieniu naszego bestsellerowego balsamu Desert Rose. Mieszanka bronzerów umożliwia Ci uzyskanie efektu skóry muśniętej słońcem o naturalnym wykończeniu, bez żadnych smug i pomarańczowych tonów. Nasza formuła błyskawicznej opalenizny w 1 godzinę zawiera specjalne, naturalne aktywatory, które pomogą Ci uzyskać jeszcze ciemniejszą opaleniznę, aktywując komórki skóry, aby szybciej pogłębić jej kolor. Całkowicie naturalne DHA zostało połączone z antyoksydantami, aby pomóc Ci w szybszym osiągnięciu opalenizny, która wnika głęboko w skórę tworząc naturalnie wyglądający, trwały efekt. Płyn do opalania natryskowego The Desert zapewnia idealnie opaloną skórę, która z czasem ciemnieje i przybiera intensywny, ciemnobrązowy odcień.
Sposób użycia
Aby uzyskać opaleniznę bez smug
Dzień przed aplikacją należy zrobić peeling całego ciała. Dzięki temu opalenizna utrzyma się jeszcze dłużej.
Płyn aplikujemy dedykowanym urządzeniem do opalania natryskowego, na ciało i twarz pozbawione kosmetyków.
Dłonie, łokcie, kolana i stopy opalamy delikatniej.
Odczekujemy kilka minut i nakładamy najlepiej ciemne i luźne ubrania. Płyn trzymamy na ciele od 1 do 3h dla wyraźnego efektu, a w razie potrzeby dla wzmocnienia koloru możemy wydłużyć ten czas nawet do 8h.
Po tym czasie bierzemy krótki prysznic (45 sekund) samą wodą i gotowe :) Po pierwszym prysznicu zmyjemy z ciała wstępny bronzer, natomiast opalenizna rozwijać się będzie w zewnętrznej warstwie naskórka jeszcze do 24h.
Do standardowych kąpieli z użyciem codziennych kosmetyków można wrócić po 8h, licząc od momentu zmycia wstępnego bronzera.
Składniki
Water (Aqua, Eau), Dihydroxyacetone, Alcohol Denat., Dimethyl Isosorbide, Hamamelis Virginiana (Witch Hazel) Water, Propylene Glycol, Caramel, Polysorbate 20, Phenoxyethanol, Caprylyl Glycol, Potassium Sorbate, Hexylene Glycol, Xanthan Gum, Glycerin, Helianthus Annuus (Sunflower) Seed Oil, Panthenol, Ascorbic Acid, Tocopheryl Acetate, Theobroma Cacao (Cocoa) Seed Butter, Rosa Canina Fruit Oil, Glycine Soja (Soybean) Oil, Beta Vulgaris (Beet) Root Extract (Extrait de Racine de Betterave), Solanum Lycopersicum (Tomato) Fruit Extract, Vaccinium Macrocarpon (Cranberry) Fruit Extract, Cucumis Sativus (Cucumber) Fruit Extract, Yellow 5 (CI 19140), Green 5 (CI 61570), Red 40 (CI 16035), Red 33 (CI 17200), Yellow 6 (CI 15985), Blue 1 (CI 42090)
See other products in the same category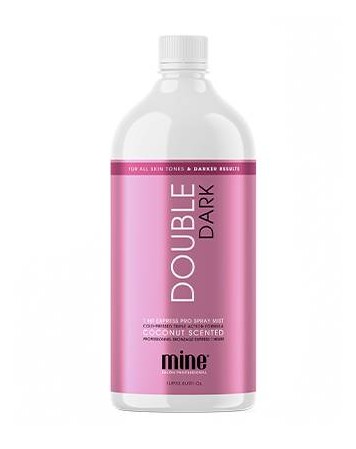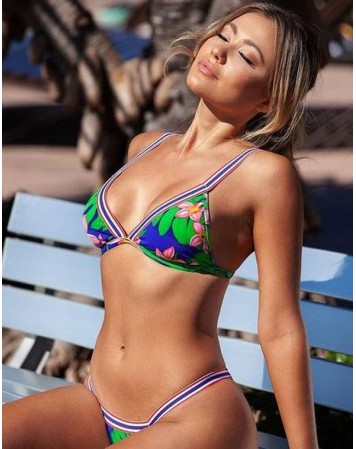 intensywna i chłodna opalenizna
Regular price
zł199.00
-zł10.00
Price
zł189.00
View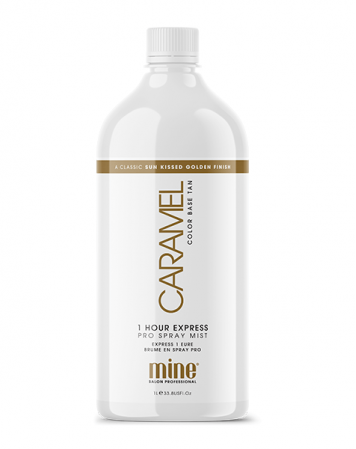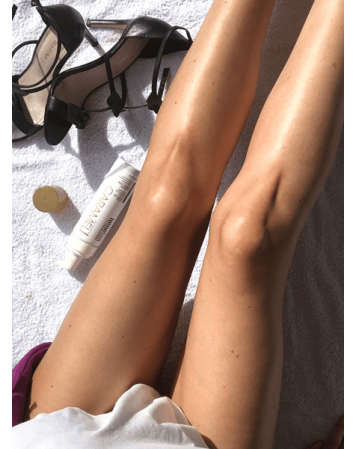 delikatna i subtelna opalenizna
View