Training + Tan.Lite Pro Spray Tanning Kit
 
3,149.00 zł
Save 1,853.00 zł
Lowest price within 30 days before promotion:

3,149.00 zł

Shipping on working days until 20:00
At your place:
monday (25 september 2023)

We deliver to Parcel Lockers
also in weekend
We also deliver orders to Parcel Lockers on weekends.
The delivery method "Parcel on the weekend" is available from Thursday 8:00 p.m. to Friday 3:59 p.m





Shipping PLN 1 from PLN 159
by InPost and GLS courier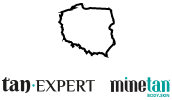 Polish distribution
The official Polish online store
Our promotional Tan.Lite Pro training kit provides everything you need to start your adventure with spray tanning. Provide your customers with the highest quality.
That's what you can expect from this product

Training in spray tanning carried out by "TanExpert Master"

Tan.Lite 32000 professional spray tanning device

4 pieces of spray tanning lotions (1L)

A tent, a company shirt and a absorber that can be set up in no time

Training materials and a package of advertising materials

TanExpert Certificate - the official distributor of MineTan cosmetics
Details
What do you gain thanks to our training:
presentation of the most important information in the form of comprehensively presented theory,
acquisition of professional skills during practical training,
possibility to purchase TanExpert and MineTan products at attractive prices,
substantive support at every stage of cooperation,
the right to identify with the brand.
The most important advantages of TanExpert and MineTan cosmetics include:
100% organic composition,
natural, cool shades without orange tones,
no annoying smell of pre-dye,
no stickiness of the skin after applying the pre-dye,
visible effect after the first hour.
Are you interested in spray tanning training?
That's great! Below you will find tips on what next steps you should take to start working with us:
Contact us by phone (call +48 533 709 708 and select topic number 5 on the hotline) or by e-mail (wspolpraca@tanexpert.pl) - we will present you the benefits you will receive by choosing our offer and we will forward contact to all coaches. You can also count on professional advice on your future business.
Make contact with the trainer whose location is most suitable for you and set the date of the training. We provide only experienced staff for whom spray tanning is the main and dominant axis of activity.
Buy a selected training package at our TanExpert24 store. We will send the equipment and cosmetics to you as soon as we receive the payment. At this point, you will also receive preferential price conditions for all products in our offer.
Wait for training date. Ahead of you are 4 hours of intertwining theory and practice alongside one of the most experienced people in Poland. At the end, the trainer will give you a Certificate confirming the acquired knowledge and skills.
Promote yourself and spray tan :)
Contents of the training kit
See other products in the same category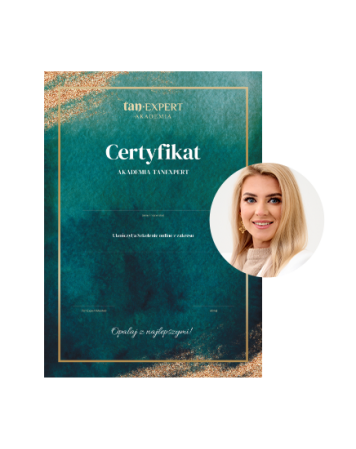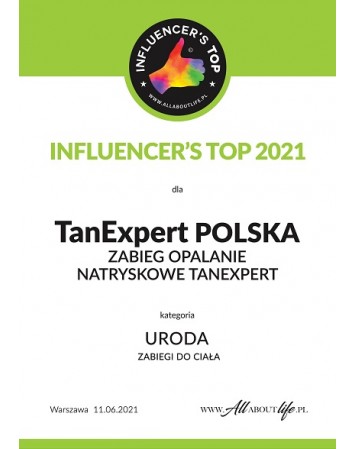 Regular price
5,812.00 zł
-2,133.00 zł
Price
3,679.00 zł
View